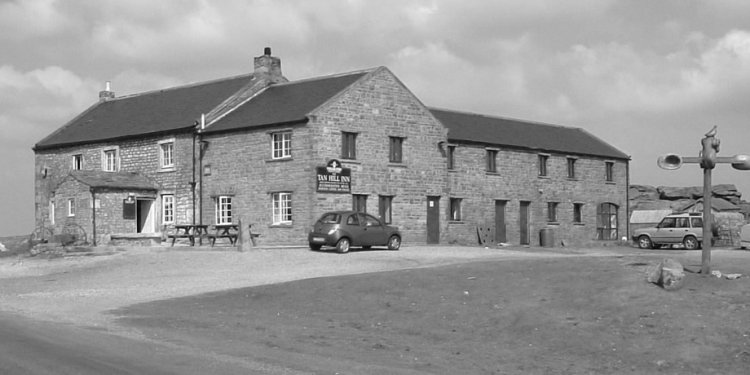 Cafe Askrigg North Yorkshire
Under new family ownership, The White Swan has integrated a cycling friendly cafe in to pub meaning you can stop and refuel from 10am on weekends. With great locally sourced sweet and savoury food and undercover secure bike storage this is one of the best places to stop for miles around.
Weatherhead Butchers
Pateley Bridge
07
OK so technically not a cafe. They don't even have anywhere for you to sit! so why have we listed them here? Well, quite simply the best warm pork pies we have ever tasted - bar none. So choose from the vast range, take a pew opposite the shop and enjoy quite possibly the best pork pies in the world!!! seriously.
Ye Olde Naked Man Cafe
Settle
52
A great cycling friendly cafe with a wide range of sweet and savoury delights. The perfect place to stop on a coast to coast trip or simply if you're in the area and in need of some re-fuelling.
The Dales Bike Centre
Richmond
08
Call in, sit down relax and refuel! We have a passion for really good food using local produce to offer great quality caf food ie. Soups, sandwiches, panninis and some simple favourites! We serve fantastic coffee, tea and a range of home made cakes that will have you mesmerised and struggling to decide on just one! Our food is served in cyclist friendly relaxing environment with stunning views across Swaledale.
Darley Mill Centre
Darley
57
Enjoy our traditional licensed restaurant - from homemade cakes, biscuits and light snacks to full lunches. Our speciality coffees are freshly ground to order and are made from award winning finest quality beans brought to you from around the world. All of our filter coffees and teas are supplied by Taylors of Harrogate. Great outside walled garden area for leaving your bikes.
The Curious Table
Easingwold
34
Situated in the picturesque North Yorkshire market town of Easingwold, The Curious Table welcomes cyclists and provides great food and drink along with plenty of space to rest your bikes while you rest your legs.
Yorks of Thirsk
Thirsk
76
Set in the market place of Thirsk, Yorks of Thirsk offers the discerning cyclist the perfect environment to enjoy a mid ride break or post ride refresh. Great food, excellent coffee and a genuine cyclist friendly atmosphere makes Yorks of Thirsk one to visit.
Sophies
Harrogate
19
The coffee shop combines a wood burning stove and vivid settees with cool Lloyd Loom tables and chairs. Alternatively you can dine al fresco in our delightful gardens and soak up the peace and tranquility. At Sophie's the emphasis is on home cooking and excellent coffee so everything is cooked and baked on the premises, ensuring fresh and delicious food. Our deli sells speciality breads, bruschetta and pies to eat in or take out for those lazy picnics in the Dales.
Caffe Rosso
48
Caffe Rosso is a contemporary licensed Italian coffee shop in Harrogate, serving hot and cold food, Panini, soup, fresh coffee, patisserie. Great space at the front to leave your bikes and very cycle friendly staff.
Tan Hill Inn
Reeth
46
OK so not technically a cafe but if you make it, Tan Hill Inn is one of those sights to put a smile on your face.The Tan Hill Inn is a very special place, occupying a lonely site, high in the Yorkshire Dales. It is in fact, the highest pub in Great Britain at 1, 732ft above sea level. Here you will receive one of the warmest and most friendly welcomes that you could ever wish to find.
The Abbey Inn Byland
Byland
04
The Tearoom is open Wed – Sunday 10.00am to 5.00pm April – June and July and August opening 7 days a week 10.00am to 5.00pm then September until October 31st back to Wed – Sunday. All cyclists very welcome if you are a larger group wanting to make a stop a phone call before you set off would be very welcome!
Sykes's House
Askrigg
35
Sykes's House is a thriving village store with a tea room as well as having two large Bed and Breakfast en-suite letting rooms.
There is a large secure covered courtyard that can accommodate bicycles and has plenty of room for any maintenance you may need to do. The cafe may only be small but serves Yorkshire Tea, Taylors of Harrogate coffee as well as homemade cakes, scones and very popular chocolate brownies.
The White Swan
Thornton-Le-Clay
86
Based at Thornton le Clay and just 4 miles from Castle Howard. We are all finished with the building referb and are running as a cycle stop from this spring. Open Saturday and Sundays from 10 am serving home cooked breakfasts, cake and scones as well as a water stop on route for cyclists. We have plenty of space and are working on secure storage for your bikes.
Last year we played host to NSPCC Tour of England riders looking after 150 cyclists. We provided lunch then water stop for them all on route.
The Cavendish Pavillion Riverside Cafe
Bolton Abbey
45
Situated in the heart of The Bolton Abbey Estate. The Cavendish Pavilion is the perfect riverside venue for refreshments and a bite to eat as part of your family day out - serving hot and cold drinks, hand-made cakes, sandwiches and hot food every day. Opened in 1890. it very much resembles a Victorian style station building.
Suncatchers Cafe
Masham
09
Suncatchers Cafe is situated in the picturesque market town of Masham in the Yorkshire Dales. It has a unique ambient atmosphere created with bright colours, local artwork, artefacts from all over the world and soft world music playing in the background. A favourite amongst cyclists and plenty of outdoor space at the front to leave your bikes.
Prologue Performance Cycling
00
Situated in Harrogate town centre, Prologue is everything to all cyclists. On the cafe side of things we offer a vast array of the best sandwiches, cakes and coffee for you to enjoy all whilst watching re-runs of the greatest cycle races on our huge flat screen TV's
Penny Garth Cafe
Hawes
66
Penny Garth Café has been a popular meeting point in the Yorkshire Dales for Motorcyclists and Cyclists for decades. It's the ideal place for a large mug of Yorkshire Tea and a bacon butty after a long winding ride through the Dales National Park.
Share this article
Related Posts