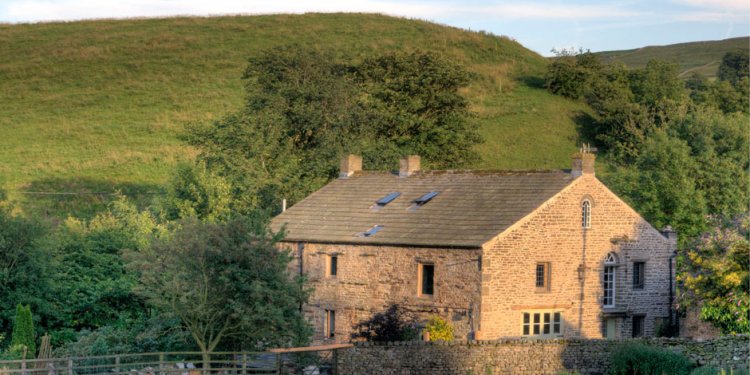 Bainbridge, North Yorkshire
Summary:This is a walk in history for the first section from Bainbridge to the flanks of Wether Fell is along Cam High Road, a perfectly straight roman road walked by legionnaires around 2, 030 years ago. Now it is used by Ramblers taking advantage of it to link Wensleydale and the southern Dales. We left Cam High Road near its top to descend into Raydale before visiting Semer Water, the Yorkshire Dales second largest glacial lake before returning to Bainbridge, once home of the Roman fort of Virosidvm.
My first intention had been to follow the road without deviating but while on our course along the historic way I often looked at the map to track how far we had walked on the roman way and how far we still had to go. On one such scan of the map I noticed indication to a waterfall called Horton Gill Force which was only about 50 metres off the path. I was impelled to go and look. Jez and Dave reluctantly left Cam High Road and followed. I am so glad I took the detour. The wonderful thing about the Yorkshire Dales is there are so many recognised places of natural beauty but there are many unrecognised places that just have to be sought. Horton Gill Force is such a place. I tracked along Horton Gill to the waterfall from above and first found a small cascade, nothing too exciting but the noise below told me there was more to see. Downstream I went to another larger falls and still there was noise below. Down further I went to another significant falls of about 6 metres and in series the waterfalls made a wonderful setting. Jez and Dave came too and then Dave made a discovery of an old iron implement that he and Jez guessed may have been used to shape stone. We were not sure but there was a kiln close to the waters edge and it may indeed have been used to shape the stone for that. Whatever it was, a fun discovery had been made and Dave saved the heirloom to keep in his retinue of finds from his outdoor explorations at home. Once the iron implement was secured in his bag we moved on from beautiful Horton Gill and regained Cam High Road, continuing to ascend until we reached our point of exit which took us over a small ridge and into vast open spaces with Raydale unveiled in all its glory ahead of us.
The descent into Raydale was a relief after the steady constant climb we had made from Bainbridge along Cam High Road. Apart from the short detour to Horton Gill Force we had climbed uphill without a break. Yet, while the downhill journey was a pleasant rest for our lungs we had to keep our brains in gear. The descent into Raydale was steep and the grass was wet underfoot. I slipped on the wet grass a couple of times and only just managed to stay on my feet. Later on, after a further slip Jez was to mention a phrase I will remember from now on for such occurrences but let us wait until it happens shall we. Back to the walk and we made it to down to Raydale unscathed and ambled through the scattered farmstead village of Marsett. From the village we followed Marsett Beck for a short distance before tracking south to cross a footbridge over Raydale Beck and then tracking to another footbridge to cross over Cragdale Beck. Eventually the three becks become one as Crooks Beck which is the main feed into Semer Water. We kept to a path bisecting the course of the becks and the village of Stalling Busk. This led us towards the remains of the old Stalling Busk Chapel but before we got there we broke for lunch near an old barn.
After lunch we continued on a north east course and soon came to the remains of the old chapel which was actually the site of the original church of Stalling Busk complete with graveyard which is 350 metres away from the village. It's dereliction makes the site poignant and a thought provoking place. With direct views of Semer Water and the low hills of Lower Raydale it is a superb setting. Why did it fall into such decline? It is clearly in a much more scenic setting than St Mathew's Church which now serves the community. It too is a lovely place but if my final place of rest was one of the two I know which I would choose. At the old chapel we met a couple who were also enjoying the setting of the abandoned building and after some exploration of the structure and grounds we made our way towards Semer Water.
Share this article
Related Posts