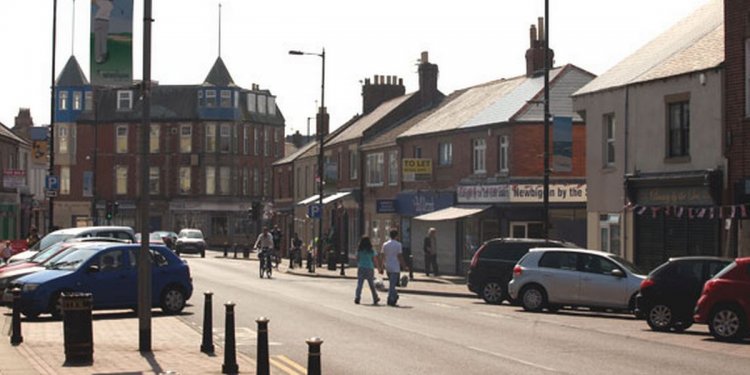 Train Newbiggin England
Note: In some official railway publications the station has been referred to as Newbiggin-by-the-Sea, for example in the Railway Clearing House Handbook and on Lance Cattermole's BR (NE) poster map of Northumberland published in 1949. The longer version of the name was also used on some tickets.
Newbiggin was a mining village and aspiring coastal resort when the railway arrived in 1872. In 1911 the NER recorded the station's catchment population as 3, 736, and by 1951 Newbiggin was a town of a little over 10, 000 people.
The station building was H-plan with an elongated central section, and constructed largely of brick. Dutch gables with spike finials adorned the two-storey west and single-storey east wings, making this the most attractive station in the Blyth / Newbiggin area. The platform elevation included a slightly projecting ground floor window on the west wing, and a debased Venetian window on the east wing. These window styles were repeated, with minor variations, on the road frontage. Door openings had restrained gothic arches. An open-fronted verandah -removed by 1962- stretched between the cross wings. The main platform (about 200yd) and bay (about 120yd) received a narrow 43yd extension in 1902 to accommodate longer excursion trains. The signal box was about 100yd west of the station, south of the running lines and adjacent to a siding which served a turntable. The goods facilities included a one-ton crane; a range of goods could be handled but (in 1913) potatoes and livestock were the principal traffic.
Documents held in the National Archive, Kew, reveal that in 1924 the LNER planned additional capacity. Scheme 1 would double the line to Woodhorn (one mile west of Newbiggin) and create a new station with two curving 130yd platforms on sidings north-west of the original station. The main building, reached by a new approach road, would be on the up platform, with a waiting shed on the other platform. Scheme 2 was to add a 200yd platform opposite, but displaced westwards from, the existing main platform. Neither scheme was adopted. After closure in 1964 the tracks were removed between Newbiggin and Woodhorn, and the station site was cleared by the mid-1970s.
See also:
Share this article
Related Posts